what is this #litlove thing?
It's a collaborative post series that debuted two months ago, featuring myself and four other lovely writer/bloggers:
(So all together, you can call us CATAT, or CAATT, or—my personal favorite—ATTAC.)
Basically, this series is our chance to spout our love for the written word in all its forms, and it happens once every two months. It was born from a feverish Twitter fangirling session (as so many good things are) and then put into action. We've got a veritable army of ideas cooking, and we plan to spotlight everything from authors to tropes in the future.
The original kick-off was our feature on brilliant middle-grade author
Kate DiCamillo
, in which I talked everyone's ears off about
Because of Winn-Dixie
.
the basics: roald dahl
If you've ever even dipped into the world of kidlit, I'm willing to bet a very large sum of hypothetical money that you've heard of Roald Dahl. Nevertheless, I shall indulge in a short primer/review for you all.
The beginning of his Goodreads bio might make his name ring a bell (despite being horrendously bare-bones):
Roald Dahl was a British novelist, short story writer and screenwriter of Norwegian descent, who rose to prominence in the 1940's with works for both children and adults, and became one of the world's bestselling authors.
He was a world-famous author whose books have been sold in all sorts of places and have made their way into people's hearts. He made... quite a name for himself, if I'm to make an egregious understatement.
Dahl is best known for his well-loved children's stories. To list off just a few:
Charlie and the Chocolate Factory
,
The BFG
, and
James and the Giant Peach
are all examples. These books all carry a very intelligent sense of whimsy that manages to be approachable yet never condescending, and plucky characters who will stick with you. There's a very faint ridiculous element in everything he writes, but Dahl makes it work, and readers love him for it. I LOVE HIM FOR IT. I've read almost all of his work for kids, and I'm proud of my hardcore-fan status.
But his works are incredibly wide-ranging, and I've heard tell that he wrote some pretty macabre short stories for older readers. (Of those, I've only read "Lamb to the Slaughter", which was... not exactly up my alley, but still intriguing.)
the loveliness that is matilda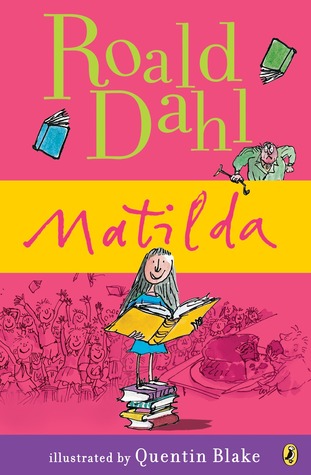 Matilda is a sweet, exceptional young girl, but her parents think she's just a nuisance. She expects school to be different but there she has to face Miss Trunchbull, a kid-hating terror of a headmistress. When Matilda is attacked by the Trunchbull she suddenly discovers she has a remarkable power with which to fight back. It'll take a superhuman genius to give Miss Trunchbull what she deserves and Matilda may be just the one to do it!
Okay, so this Goodreads summary is kind of awful and woefully inadequate, but in a nutshell, this book is one of Roald Dahl's most famous books and has spawned both a film and musical adaptation. It's an all-around delightful romp about being yourself in a world that dismisses you—plus an effortlessly awesome, wickedly smart heroine who loves books!
You've also got a classic good-versus-evil struggle (smart student versus complete curmudgeon of a headmistress, but humor me on this) and quirky, wonderful characters all around. You have your high points and your low ones. You have the triumph of a brave young girl just trying to find a comfortable place in the world.
That's powerful stuff, and it's so much more amazing than it might seem at first glance.
Agh, just thinking about this treasure of a book is flooding me with nostalgia.
what this book means to me
Matilda
was an incredibly important book for me when I was younger mainly because of its protagonist. Matilda Wormwood is a well-mannered, kind, extremely precocious young girl who loves to read—just like yours truly, though my intellectual feats certainly weren't as staggering as hers. So I related to her immediately, because I felt like we were in very similar positions at the time, and I became very invested in her adventures.
I feel like this particular quote perfectly encapsulates my childhood:
So Matilda's strong young mind continued to grow, nurtured by the voices of all those authors who had sent their books out into the world like ships on the sea. These books gave Matilda a hopeful and comforting message: You are not alone.
Before I read
Matilda
, I was under the (thoroughly mistaken) impression that girls like me couldn't be heroines—we were too quiet, too bookish, too
boring
to have stories told about us. We didn't have the right adventurous spirit, or the right skills, or even the right situations to produce enough conflict and tension to be interesting. I thought I was to spend my entire life reading about people with wildly different personalities and dispositions. It's all well and good to meet characters who are extroverted, characters who are loud and powerful, characters who are ostentatious. But these characters will always be just a *little* distanced from you, because they're not
like
you.
Matilda
took all that and totally flipped it on its head, and it was glorious.
It was a memorable story. An emotional story. A story that made me laugh and (internally) cheer and get edgy at the tense bits. It was a story that tugged my heart straight into the pages—all about one literature-obsessed girl who dares to be her own soft but strong self. Seeing mirrors of various aspects of yourself in books is
incredibly
important, and for me,
Matilda
was one of the first stories that really accomplished that.
Being able to relate to books, all starting with
Matilda
, gave me a vital tool: empathy. That feeling of being able to experience something wholly from another person's point of view is absolutely key to both reading and life; the capacity for understanding someone emotionally as well as mentally is what makes society tick. And so while
Matilda
impacted me on a very personal level, it set my mind up for a deeper grasp of everything that happened around me. This book was a catalyst, and I don't ever want to forget the profound learning experience I went through as a result of reading it. It was a stepping stone and a springboard and a terrifying plunge all at once.
This book became... well, more than a book to me, because it sat me down and told me, "Here is a person like you. Here is a look into her heart. Here is a story, because that is what you need right now."
It's a very valuable lesson, and one that I hope makes its imprint on you not only in
Matilda
, but in every book you read. This, I've come to realize thanks to this book, is what literature really is. It's a reminder and a comfort:
YOU ARE NOT ALONE.
that's it from me!
...but you should definitely read and give HEAPS OF APPRECIATION to the rest of today's #LitLove posts: