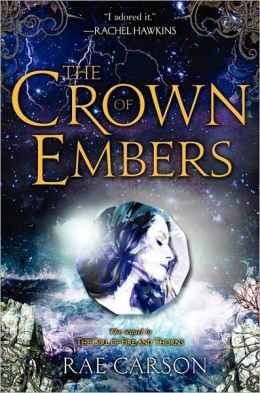 pic from the Barnes and Noble page
WARNING: If you haven't read
The Girl of Fire and Thorns
, DO NOT READ THIS REVIEW. There are spoilers.
In the sequel to the acclaimed The Girl of Fire and Thorns, a seventeen-year-old princess turned war queen faces sorcery, adventure, untold power, and romance as she fulfills her epic destiny.

Elisa is the hero of her country. She led her people to victory against a terrifying enemy, and now she is their queen. But she is only seventeen years old. Her rivals may have simply retreated, choosing stealth over battle. And no one within her court trusts her - except Hector, the commander of the royal guard, and her companions. As the country begins to crumble beneath her and her enemies emerge from the shadows, Elisa will take another journey. With a one-eyed warrior, a loyal friend, an enemy defector, and the man she is falling in love with, Elisa crosses the ocean in search of the perilous, uncharted, and mythical source of the Godstone's power. That is not all she finds. A breathtaking, romantic, and dangerous second volume in the Fire and Thorns trilogy.
So Elisa is back and as kick-butt-AWESOME as ever. She's more confident, which is refreshing, and she is a great politician, it turns out :D But anyway, she's just the kind of girl you want to HUG sometimes, you know? I swear she is SUCH a good protagonist. OMG OMG OMG.
Um so I know that we're all still teary about Humberto's death. Yes. BUT... dun dun dun... he has a replacement! An amazing REPLACEMENT! Okay, so I thought it was kind of weird that Elisa was able to replace Humberto so quickly, but it wasn't a very progressed relationship, I guess. SO BEFORE YOU READ ON MAKE SURE YOU'RE OKAY WITH A TEEEEENNY SPOILER.
Or not so teeny.
The replacement is - Hector! I know, right?! And like the whole time I was like, "But how old is he?" Then it turns out he's only a little older than Elisa. Then through the whole book I was like, "KISS HER ALREADY!" You know that feeling? But anyway, he had so much more of a backstory and feelings and GOOOOSSSSSHHHHNESSSSS and when I finished, I decided that I like Hector better than Humberto. Just saying. (Does anyone else dislike the name Humberto?)
Now I have to gush about the setting of the whole series again. I mean, it's like, Spanish! And so richly cultural and *a moment of fangirling*.
The one thing that got me a little about this is that she kind of is losing her focus. What is her main goal? I thought it might be defeating the Inviernos and stuff but it's also about fulfilling her destiny so... but you know what? I'll just shut up.
I know this is a completely random, all-over-the-place review, but just read it, you know? Then you will get me. COMPLETELY.
One last thing: The next book is called The Bitter Kingdom. It's expected to come out on August 27, 2013. And just LOOK AT IT (not sure whether this is the final cover though):
pic from Goodreads
I just looove the covers for this whole series! Isn't it pertty? Anyhow, that's Starry signing off on this review. :)